Hybrid Events With POLYAS Live Voting
Conduct digital voting at your event
POLYAS as a key component of hybrid events
Combine events easily with POLYAS Live Voting
Flexible participation in both on-site and remote voting
The COVID pandemic has shown that many things that were previously only conceivable in analog form now also work digitally. Even before that, there were many reasons not to attend every event or meeting in person. Whether it be travel costs, time required or carbon footprint - many appointments can be held online more easily and flexibly rather than in person. In addition, more people can participate in an online meeting rather than in a face-to-face one. Nevertheless, many people cannot do without face-to-face events. The perfect solution: hybrid events - an exciting new format.
Hybrid Events are the Future.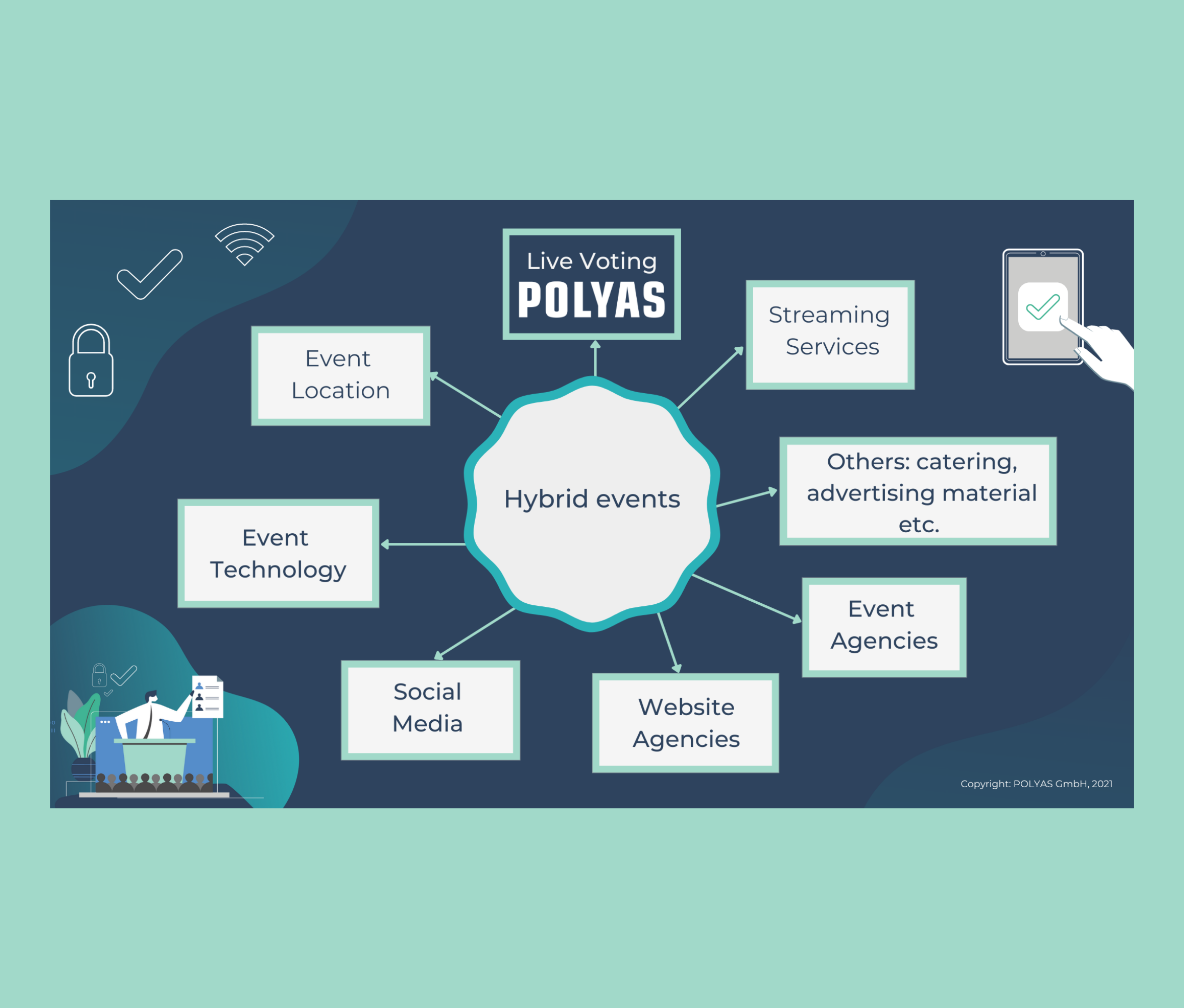 Components of Hybrid Events
POLYAS is a strong partner in organizing your event. The graphic shows a system in which, depending on the type of the event, all or individual partners are used.
Become a POLYAS partner
POLYAS and hybrid events: Our Live Voting for legally compliant digital voting is an essential component of your event. Other relevant partners include event service providers / event agencies, event locations, service providers for streaming and event technology, website providers for the creation of event landing pages, social media wall providers - and of course catering companies, advertising material providers, etc.
Digital elections and voting at your event
The right solution for your event
Small and medium events
Live voting for small- and medium-scale general meetings and other events can be carried out independently using our self-service.
Plan your Live Voting
Larger events
To book POLYAS features for large and high-profile events, please contact POLYAS Project Management.
Contact POLYAS
All other types of events
POLYAS Live Voting can also be used for other event formats such as online or face-to-face events.
More about Live Voting